The Demon Priest (novel)
The Demon Priest is a novel that takes place in one of the many worlds accessible from the Halflands—a world of pulp fiction and superheroes. While most of the action occurs in that world, the characters do visit Dream and Twilight, walk the Witch Paths and the Hidden Road, and sail the Blackwater and the Great Lake.
The Demon Priest started as a slip of the tongue. I was telling a friend about the character portraits that I had been creating for my superhero realm using the HeroMachine web app. When I got to the one that I called "the Demon Prince", I tripped up and said "Demon Priest" rather than "Prince". Having made the mistake once, I repeated it several times in the next few minutes. At one point, I commented that I'd clearly misspoken—the notion of a demon priest was obviously nonsensical.
Later that evening, I couldn't get the image out of my head, so I created an illustration of the Demon Priest. Once I had that, the rest was almost inevitable. I had a picture of this obviously self-contradictory bit of nonsense, but what if it weren't nonsensical? If a demon priest could exist, what would it be? How could it be?
It wasn't long before Father Samuel Gregory started to emerge and take form. If he was going to be a priest, then there would have to be an unusual incident involving an unusual bishop. If he was going to be either a superhero or a villain, then he'd need a lair, and what better lair, either way, than a desanctified church—it would have to be desanctified, right?
A church, even just considered as a building, even a building that was once a church, is a lot of work to maintain. It would need a sexton. It should be an old church, a church with a history, and with a suitable character. It wouldn't do for a demon priest to live in just any old church. It should be one dedicated to a saint with a particular relationship to demons. And so, St. Michael's and the Angels—former Episcopal church—came into being.
As I started writing stories set in my superhero world, Father Samuel Gregory, the Demon Priest, with his cast of supporting characters, his mission, and his backstory, started to exert themselves. They wanted to be told. And so I decided to listen and put it down in words. Soon, someone named Lee was telling the story of how Father Gregory came to Saint Michael's and the adventures that ensued.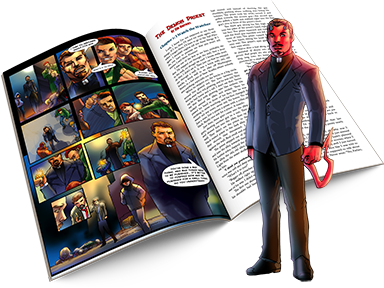 The novel is now available on Amazon in Kindle, paperback and hardback formats. There is also a teaser preview available on IndyPlanet as either a free PDF or a print-on-demand 24-page comic. Either way, it presents an 8-page graphic version of the story as it appeared in G-Man Comics 3IN1 as well as the first two chapters of the book, and eight pages of character profiles like those printed in the Handbook of the G-Man Universe.
While you're on IndyPlanet, you may want to check out the G-Man Club Fanzine, which I edited, and the other fannish items published by G-Man Comics. G-Man Comics is a micro-publisher whose website can be found at G-Man-Comics.com. We publish comics every three or four months through Kickstarter.